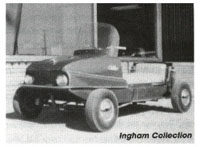 1973 Merc Squad.
From Canora Saskatchewan,Tom Scherban`s
1973 Merc Squad.
snowmobile/quad.
Factory engine, custom build kit.
Goes like hell.
Moto-ski F-295
What you see in the pics started out as 1973 Moto-ski F-295, when theoriginaltrack went, and having a hard time finding a decent replacement.
I eventually decided it wasn't worth replacing and started dismantling for parts.
But then I came across Blake Reads Sno-jet site which happened to have the same machine on a wheel kit, then the wheels in my head started to turn, there was no turning back.
The rear axle and mount were all custom made, the front axle is off the rear end of a small research combine, the handle bars and steering column are from a Ski-doo Citation with a Ski-Roule bottom. The 440 Kohler is out of a Ski- Roule breathing through a Mikuni Carb, and exhausting out of a muffler from some unknown machine.
The fuel tank is from a Polaris, and the seat is off a Ski-Roule.